Managing Your Career – Part 3: Five Modern Medical Affairs Competencies
Five Modern Medical Affairs Competencies
Dr. Qasim Ahmad, Corporate Officer, Head of Medical Affairs, Japan, Novartis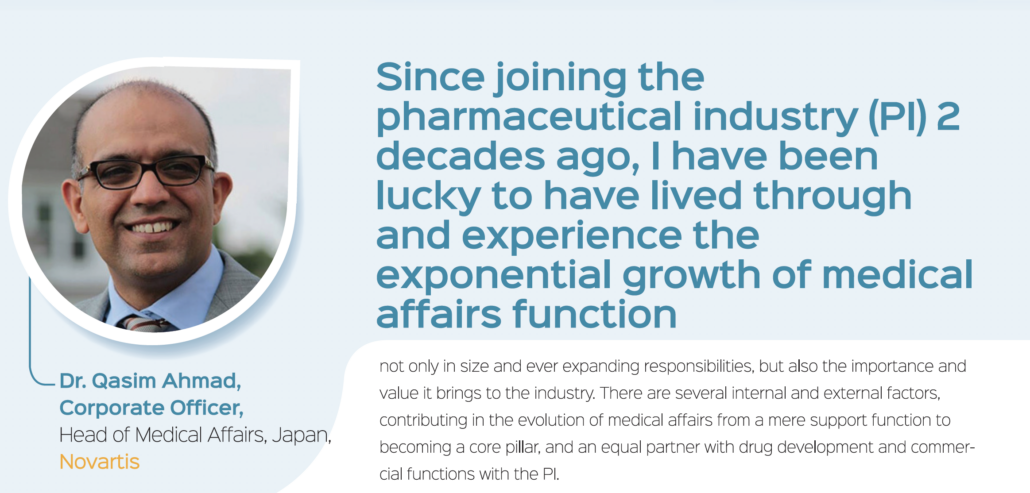 Since joining the pharmaceutical industry (PI) 2 decades ago, I have been lucky to have lived through and experience the exponential growth of medical affairs function, not only in size and ever expanding responsibilities, but also the importance and value it brings to the industry. There are several internal and external factors, contributing in the evolution of medical affairs from a mere support function to becoming a core pillar, and an equal partner with drug development and commercial functions with the PI.
In recent years, we have seen significant and unprecedented advances in biotechnology, delivering novel treatments and data sets, faster than ever before. There is an information overload, which calls for smart and innovative ways to design, analyse, disseminate and communicate the value of evidence, to the right end user (the customers), at the right place and the right time.
Concurrently, health systems across the world are becoming over-burdened, facing considerable sustainability challenges, due financial constraints, ageing, increasing population, changing disease patterns, persisting as well as new communicable diseases (COVID-19) and cost burden of chronic non-communicable diseases, including cancers.
You must also develop command on evolving health care environment and be equipped to meet the challenges associated with growing drug approval complexities and health technology assessment criteria for access. Develop unique competencies and transformative operating models to address these requirements, build capabilities that are ideally suited for medical affairs organization to generate data beyond traditional registration trial safety and efficacy packages, to facilitate evidenced based decisions making based on patient centric, clinically meaningful, health outcomes, access and quality of life real world data (RWD) data sets.
As you think of building your career in medical affairs, keep the above opportunities and challenges in consideration, the following 5 core medical affairs competencies will help nurturing your talent as patient and customer centric medical champions, ready now for future.
Enterprise Perspective
Functional Excellence
Health System Thinking
External Facing Organization vs Internal focused
Effective Leadership & Governance
1. Enterprise Perspective
Medical Affairs has evolved to be one of the most strategically important and valued functions in a pharmaceutical industry. As successful medical affairs professionals, you need to build the skills and scientific acumen like that of a clinical development expert, while demonstrating the strategic intellect and real life customer oriented mind-set of a commercial leader. You will have to champion cross functional navigation, show enterprise vision, logical and critical thinking, develop broad and long range strategic direction throughout product life cycle and build bridges between unlimited internal touch points as well as external stakeholder.
2. Functional Excellence
In order to demonstrate value, your medical affairs competencies should be geared to exceed internal and external expectations, meeting the demands of above mentioned expanding responsibilities, while acquiring new skills and capabilities. You will need an all-rounder approach, adapting new technologies, digital tools, precision medicine approaches, and introduce novel engagement models. Thus continuously striving for medical and operational excellence, not only in designing and delivering high quality clinical trials based on meaning actionable insights, but also excellence in executing deep scientific exchange with medical experts, incorporating the voice of patient, payer and all stakeholders at launch, and across life cycle strategies.
3. Health System Thinking
In medical affairs, you are perfectly placed to lead, plan and deliver health care solutions and to shape the environment, playing a key role in health systems sustainability. You should build capabilities and competencies to assess health system needs and developing solutions, supporting public health initiatives; disease awareness & educational training programs; research collaborations in area not only limited to company core business (orphan diseases, rare indications, special populations); managed patient access programs and many other patient focused projects, partnering with health system players. You will require special skills for this mind-set shift, and thinking beyond the pill to building trust with the society. This competency is distinctive and vital for future role of medical affairs.
4. External Facing Organization
As part of modern medical affairs organization, you should have involvement and ownership across life cycle of assets, from early development to late stage planning. Either you are in field medical teams, medical advisors or MSLs (medical science liaison) role, you are the eyes and ears of the organization to external world. With external customer base expanding beyond prescribers and policy makers, you well have to learn rule of engagement and proficiency to work with providers, payers, private non-state health actors, patients and patient advocacy groups, as they are all taking central stage in health care decision making. This will be the game changers in reversing the traditional internal fixated industry approach to a strategic patient and customer focused, outward facing organization. Building this core competency by incorporating patient journey, stakeholder need assessment and changing health care limitations in your strategies, will enhance collaborations, speed of innovation, resource waste reduction and improved patient outcomes.
5. Effective Leadership
Modern medical affairs is not a support function, it is about leading from the front as equal partner with commercial, departing from prior passive back seat mind-set and demonstrate value to the organization through proactive leadership, vision and measurable impact. You will have to steer this transformation from current medical advisory role to leadership status, breaking unnecessary internal silos and taking ownership as well as accountability of business deliverable. Creating this new room within the organization will requires your commitment, change agility, interpersonal skills and inspiring leadership to take on completely new responsibilities or replacing those previously championed by other functions.
Conclusion
Traditional sales and commercial models are becoming obsolete, success of future pharmaceutical frameworks relies on vision, foresight and appropriate investment in building medical affairs (MA) talent, ready now for future. With ever changing external landscape, regulations and compliance requirements, the role of medical affairs will continue to grow as the key pillar, vital to achieve organizational objectives. By building these core competencies, you can demonstrate to your leadership, the value medical affairs brings, and its strategic far reaching business impact.

https://medicalaffairs.org/wp-content/uploads/2020/08/12-1.png
321
845
Medical Affairs
https://medicalaffairs.org/wp-content/uploads/2022/11/MAPS-Logo-R-NoTagLine.png
Medical Affairs
2020-05-18 12:01:38
2023-11-13 10:21:21
Managing Your Career – Part 3: Five Modern Medical Affairs Competencies