Learning Agility: An Emergent Capability for Future-Proofing Medical Affairs Strategic Planning
By: Simon Kyaga1; Keith Morris2; Kiely Flanigan3
1Global Medical Lead, Psychiatry, Servier; 2Executive Managing Director, Scientific and Medical Affairs, Syneos Health; 3Director, Medical Affairs Syneos Health
ABSTRACT
This article aims to position learning agility as an emergent capability that supports the future-proofing of Medical Affairs strategic planning processes and outputs. In essence, learning agility is a set of skills, competencies, and mindsets that support our capability of "knowing what to do when we don't know what to do."1 Our position is that learning agility is a capability that should be developed internally and applied to the development and operationalization of strategic plans. Through the enablement of learning agile behaviors, the approach to strategic plans can be made with an eye toward ongoing reflection and updates. We define four descriptive behaviors (contextual curiosity, vision-driven adaptability, educated risk taking, and accountable learning) that match up to MAPS best practices in strategic plans and then discuss how to apply those learning agility behaviors. We conclude with future recommendations for the development and application of learning agility.
KEYWORDS
Learning agility, strategic plan, strategic thinking, medical strategy, capabilities enhancement
The COVID-19 pandemic has accelerated the need to develop Medical Affairs capabilities in learning agility. Not unlike various industry shifts over the years that have impacted the role of Medical Affairs, we've experienced a shift in the way Medical Affairs organizations are responding to changes affecting the execution of strategic plans. Field Medical is learning to engage stakeholders virtually and support HCPs in new ways as they engage with their patients through new technologies. Clinical trials adopted new protocols to protect patients and sustain recruitment. Conferences and congresses were postponed. Organizations are seeking flexible resourcing models to manage downturns in business and leveraging downtime to upskill team members. All of these changes have required an openness to change and the development of new skills to learn new ways of achieving our work objectives. We are now not only shifting how we do our Medical Affairs work, but also planning for a "new normal" as we navigate doing business virtually.
Yet, however uniquely disruptive COVID-19 has been, it is still only one more example of the bucket of business disruptions that have affected the skills, knowledge, and capability needs within Medical Affairs work. At the heart of the changes asked of us and our teams is learning agility. As a core capability associated with managing ambiguity and "knowing what to do when you don't know what to do," learning agility is particularly relevant and useful in developing adaptive and dynamic Medical Affairs strategic plans that stand the test of change and disruption.1
Learning agility in strategic planning is important because by incorporating learning agility behaviors and mindsets into the development and implementation of Medical strategic plans, teams are better able to pivot and innovate, as needed, to changing internal and external dynamics, while remaining in alignment to the overall medical vision and business objectives.
This article aims to position learning agility as an emergent capability that supports the future-proofing of Medical Affairs strategic planning processes and outputs. Our position is that learning agility is a capability that should be developed internally and applied to the development and operationalization of strategic plans. We then define four descriptive behaviors that map to aspects of Medical Affairs strategic plans and discuss how to apply those learning agility characteristics.
Medical Affairs Strategic Planning
Medical Affairs strategic plans include both intellectual components, such as situational analyses and medical strategies, as well as tactical components, including tactical and operational plans, and assessment and measurement metrics.2 Medical plans are important because they guide decision making across the organization and support the communication and assessment of Medical Affairs' efforts and impact.
Medical Strategic Planning is an integral part of setting strategic direction and articulating the tactics for driving Medical Affairs value and impact for patient and organizational outcomes. But, how do you create a realistic and viable strategic plan given a VUCA (volatile, uncertain, complex, and ambiguous) Medical Affairs ecosystem? What brings Medical strategic plans to life beyond and ensures it gets referenced more than once a year in the annual planning process? How do we make the strategic plan content memorable and keep it top of mind with our key audiences? We suggest that the secret to effective Medical Affairs strategic plans is learning agility.
In a Medical Affairs context, learning agility brings key behaviors and mindsets into the Medical planning, development, and execution processes that ensure the content contains relevancy and resonance for the organization. Although variations exist between companies in terms of influences affecting the strategic planning process (e.g., preferred timing of Medical support of launches, products, therapeutic area considerations, and operational competencies versus strategic positioning priorities), the Medical Affairs strategic planning process reflects multiple stakeholder insights, business objectives alignment, and tangible data for strategic decision making. The strategic plan is not intended as a fixed manual that is reviewed once a year.
To be of service to Medical Affairs and the broader organization, a strategic plan must be a living document that is flexible enough to incorporate new insights and maintain relevancy in the face of changing priorities and dynamics.
There are several descriptive behaviors team members can use in approaching the development, communication, and operationalization of strategic plans to support success:

Each of these behaviors is based on the capabilities needed to design, communicate, and execute on a strategic plan. The descriptiveness of the terms reflects a desire to position these learning agility behaviors as both foundational and aspirational. Learning agile behaviors are both critical for the here and now in performing work, but also for guiding toward the future and inspiring learning and development.
Learning Agility
Learning agility is relatively new to the Medical Affairs scene, but it is starting to see more traction as our industry seeks to build capabilities in individuals and teams to navigate and harness the rapidly changing nature of Medical Affairs. Originally used to develop the managerial capabilities of high-potential, high- performing talent, learning agility can be applied not only at the individual level, but also at the team and organizational levels, and is associated with higher levels of organizational performance.3,4 For purposes of this article, we'll focus on developing learning agility at the individual level and use the following definition:
Learning agility is a capability associated with adapting to change and uncertainty by applying previous lessons learned.
Learning agility requires both adaptive readiness to change and proactive innovation in times of ambiguity.5 In essence, learning agility activates the value and impact of Medical Affairs strategic planning components (i.e., situational analysis, medical strategy, tactical and operational plans, and assessment and measurement metrics) despite change and shifting expectations internally and externally.
When it comes to Medical Affairs strategic plans, it is no longer sufficient to rely on the intellectual and tactical domains of competence. Successful Medical Affairs strategic plans reflect a collective organizational capability—an integrated representation of knowledge, skill, and mindset—that brings to life within the plan the flexibility to adapt, learn, and pivot toward changing needs. Learning agility is the "how" behind the "what" of Medical Affairs strategic plans.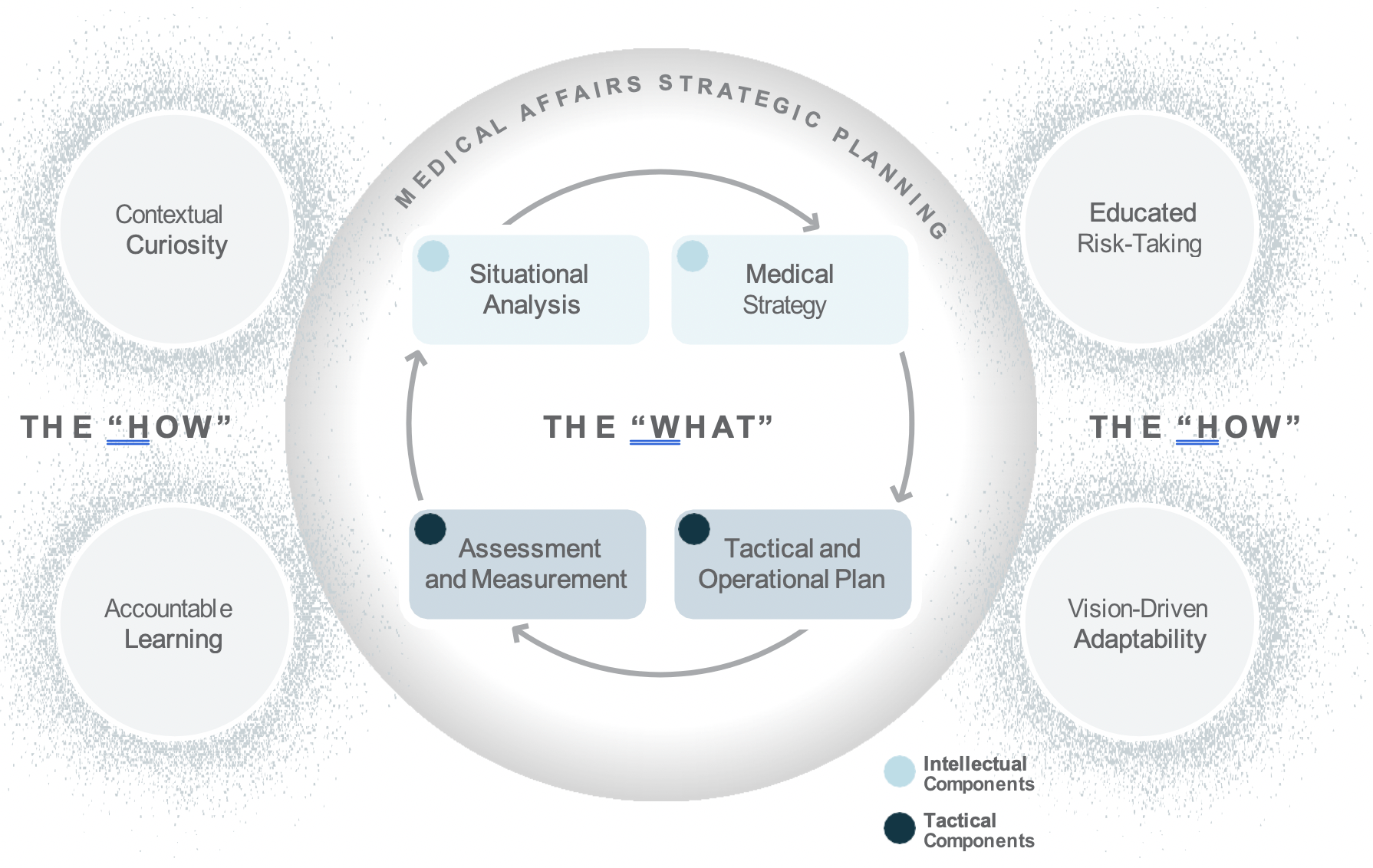 The integration of learning agility and Medical strategic planning is important to how both strategic and day- to-day operational decisions are made. This is even more important today as Medical Affairs is being asked to communicate and demonstrate its impact and value within competing priorities from more diverse and increasingly challenging internal and external stakeholder needs. In addition, due to COVID-19 disruptions, including closed conferences, Medical Affairs is forced to reconsider how to communicate and how to balance between strategy and tactics in an uncertain environment.
Mapping Learning Agility Behaviors to Medical Affairs Strategic Planning Processes
Using the strategic planning framework developed by MAPS, the section below looks at the fundamentals of Medical strategic planning and suggests related learning agility behaviors and mindsets that are instrumental to both intellectual and tactical outcomes. The learning agility behaviors form a kind of permeable flexibility and protection that ensures the strategic plan is created and maintained with maximum adaptiveness (as seen in the above diagram). Learning agility brings strategic plans to life and articulates specific behaviors that support the strategic plan having bigger impact through greater relevancy. A strategic plan must be relevant to have impact and the learning agility behaviors associated with MAPS' four elements of strategic plans makes them applicable for the teams using them.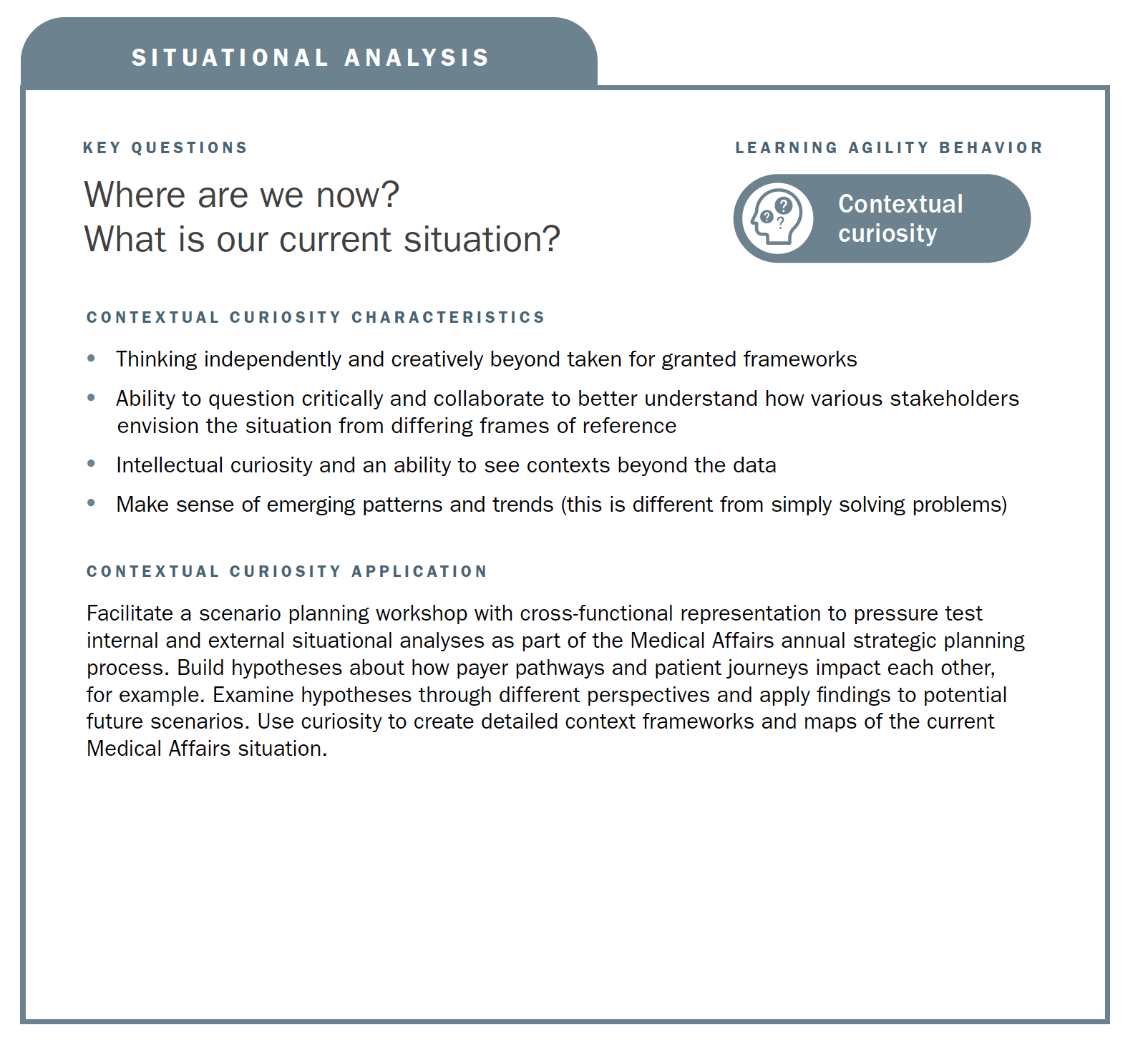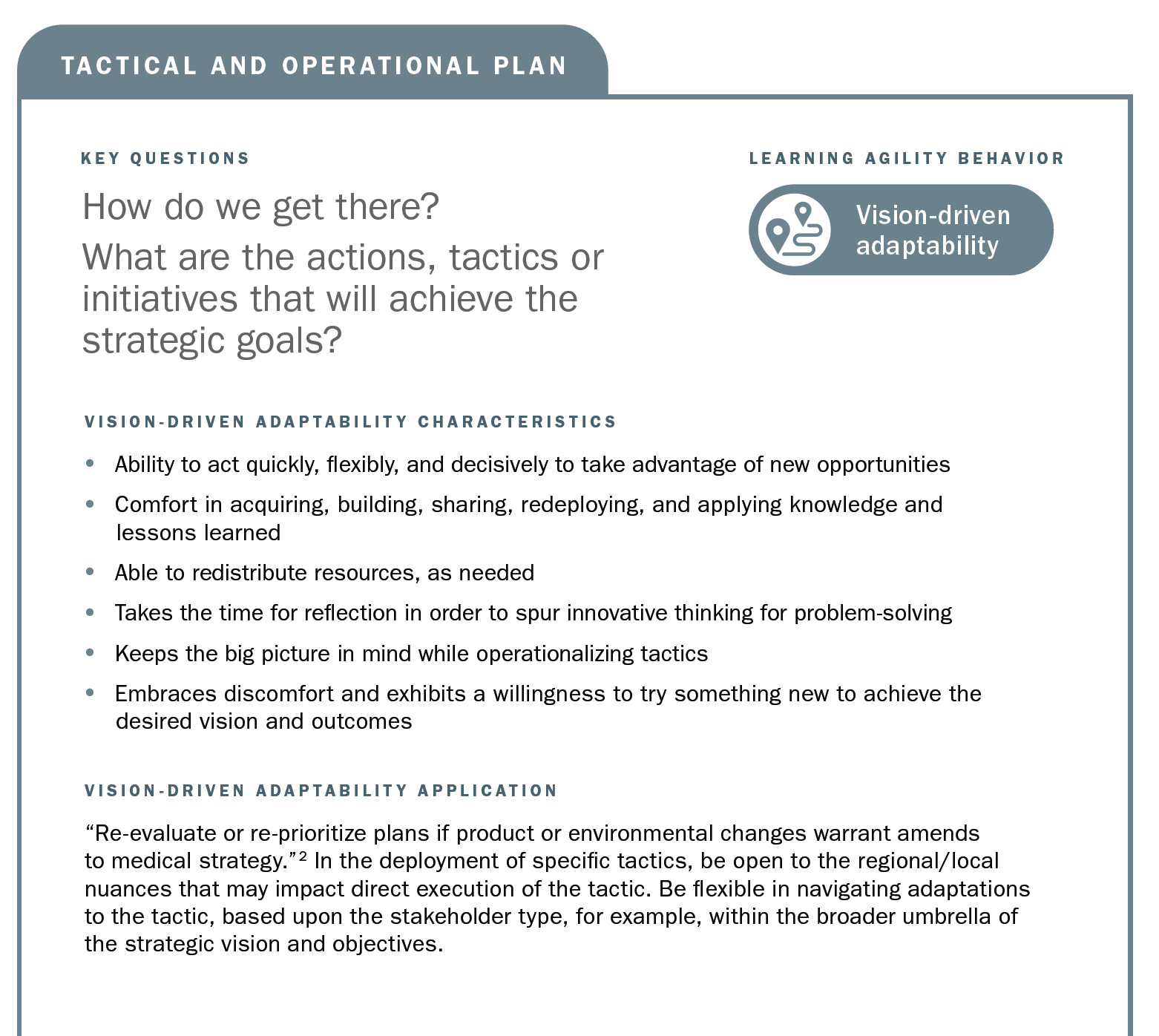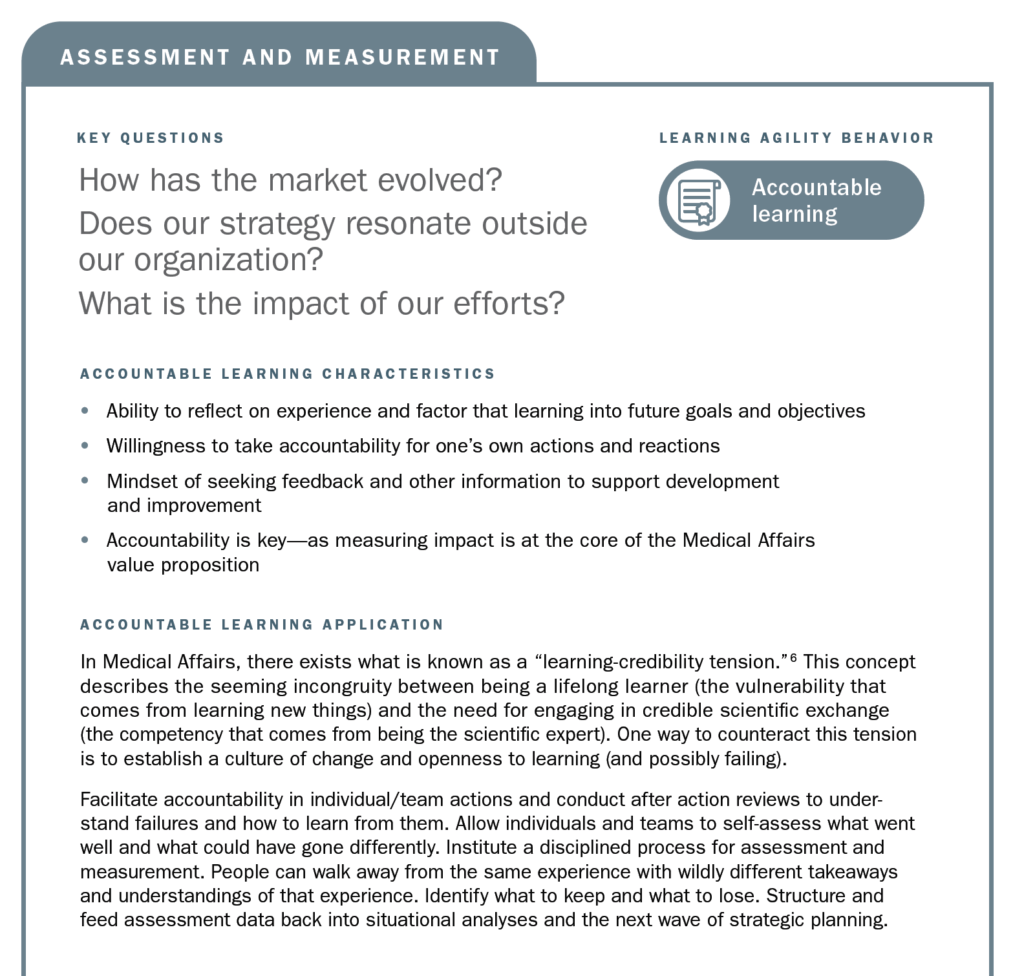 SUMMARY
In this article, we have identified learning agility as an emergent capability that brings to life and ensures the relevancy of Medical Affairs strategic plans. Specific applications were discussed for each learning agility behavior in context to its associated strategic planning element. The importance of developing the skills and mindsets to navigate change, uncertainty, and disruption are evident, now more than ever with COVID-19, and important to developing the capabilities to harness the future, whatever may come within Medical Affairs.
REFERENCES
1. Hallenbeck, G., & Santana, L. (2019). Great leaders are great learners: How to develop learning-agile high potentials. Center for Creative Leadership white paper, 1-16.
2. MAPS Annual Conference (2020). The importance of Medical strategic planning. Conference presentation: Miami, 1-23. Access in the Community Portal.
3. De Meuse, K.P. (2017) Learning agility: Its evolution as a psychological construct and its empirical relationship to leader success. Consulting Psychology Journal: Practice and Research, 69(4), 267–295.
4. McCann, J., Selsky, J., & Lee, J. (2009). Building agility, resilience and performance in turbulent environments. People & Strategy, 32(3).
5. Doeze Jager-van Vliet, SB, Born, MPh, & van der Molen, HT (2019). Using a portfolio-based process to develop agility among employees. Human Resource Development Quarterly, (30), 39–60.
6. Bourgoin, A. & Harvey, J-F. (2018). Professional image under threat: Dealing with learning–credibility tension. Human Relations, 71(12), 1611–1639.
https://medicalaffairs.org/wp-content/uploads/2020/06/Learning.Agility.png
321
845
Medical Affairs
https://medicalaffairs.org/wp-content/uploads/2022/11/MAPS-Logo-R-NoTagLine.png
Medical Affairs
2020-06-18 03:57:49
2023-11-13 10:18:47
Learning Agility: An Emergent Capability for Future-Proofing Medical Affairs Strategic Planning