The Rise and Rise of Medical
Can Medical professionals step up to a more strategic role? Dr. Ameet Nathwani discusses the need to define and measure our contribution, and why we must join together as a community to reshape the future of healthcare.
As technology advances inexorably transforming the healthcare landscape, Medical is poised for a more strategic role within pharma – that's the view of former Chief Medical Officer of Sanofi, Ameet Nathwani. However, nobody with whom he works closely would be surprised to learn that he is not a fan of the term "Medical Affairs".
"This harks back to an understanding of the way that Medical functions used to work about 15 or 20 years ago, which was much more around supporting the scientific base of the commercial organization. I prefer to just refer to the Medical function as it has evolved and expanded enormously; it's a much more strategic function now and where it sits in Sanofi, reporting directly to CEO level speaks loudly to the progress made in this regard."
New dynamics in the healthcare ecosystem
Underpinning this evolution are a series of distinct trends (see Figure 1) including the digital health revolution, the empowerment of the patient, and a requirement for continuous evidence generation. He explains: "It takes seven to eight years to develop a drug and, in that time, the healthcare system, the digital technologies, the innovation available, the way physicians practice, what the expectations of patients are, may have all fundamentally changed. So the question is: is the biologically innovative drug still relevant to patients and the healthcare system at the end of a long development process? And how do we ensure that digital health technology – the superconvergence of mobile, social, biometrics, genomics and AI – is being capitalized in everything we do? We see integrating digital health as a fundamental role of the Medical organization; from building a drugs-plus type of approach, through to real-world evidence is something the Medical function has to master."
Taking control of RWE
Another driver of Medical's current transformation is the requirement for continuous evidence generation. This is the melding of Real World Evidence (RWE), digital health, post-approval evidence and patient insight. "At Sanofi, Medical is in charge of the Real-World Evidence platform. We've built it and we, in turn, provide a service to R&D, Medical teams and Market and Patient Access. We should be able to move earlier into development, by leveraging the RWE platform for adaptive registration approaches to new products. With a really effective Real-World Evidence platform, good analytics and a transparent network, you could set up a very comprehensive, continuous observational program that continually helps to refine the benefits and risks of our products in real life as well as uncover new indications."
Nathwani thinks how we maximize RWE will define the Medical function's strategic value in the future. "We can't be regarded as a strategic function if we're not looking at how we can play a relevant role in the rapidly changing healthcare system. So, as a Medical function, we need to understand and define what the future of Medical should be in anticipation of these changes. How do we re-define ourselves? Where do we get our inspiration from – which other parts of the business or which other businesses do we send our medical teams to for inspiration? For example, are some of our Medical teams spending time at the Consumer Electronics Show, where you can pick up signals on future trends and behaviors of consumers in general – how a view of how these trends could be applied to the health sector? At Sanofi, we spend a lot of time engaging with tech companies to try and get a sense of where they are going and brainstorming on how to apply these to health. The main message is that Medical needs to look at what's happening broadly in the world of technology, analytics, as well as in the traditional areas of medicine and healthcare, and zealously bring some of those ideas back internally to assess if we can integrate them to help us improve outcomes for patients."
Measurement for Impact
One of the key challenges for Medical involves clarifying its new remit within the organization. Sanofi has selected nine strategic priorities for the function (see Figure 2), which serve as a roadmap for the transformation within the context of the evolving healthcare landscape. For Nathwani, the clarity this provides is a fundamental first step to making the function more value-driven, from early development right through to the end of the product lifecycle.
"There's been a reluctance to measure the impact of Medical in the past as there wasn't a clear definition of what it can achieve. We don't measure return on investment, as commercial metrics don't apply. We've been through this whole exercise of what we could do and what success looks like and how we measure the value that we bring: have we really made an impact on patients and physicians, have we fundamentally changed healthcare systems, have we introduced a drugs-plus solution that has truly improved outcomes? Do physicians regard the information provided by the Medical organization as credible, is the quality of the dialogue good, has it changed behavior? While complex and not easy to measure, these are the performance measures that we are trying to formulate in each pillar of our activities."
Culture
Much of the work around redefining Medical's role within the organization goes beyond just structural issues, and there are considerable challenges around culture and changing roles and expectations. "It's probably the hardest thing to do right now. A first step is having top-down support. Following that, at the grassroots level, is there a clear roadmap or vision, is the platform that we're trying to build and the vision for Medical truly understood by all stakeholders at all levels, including within the Medical function? There are many individuals in Medical today who have very different experiences and mindsets, some from a time where Medical occupied a more traditional support function role and maybe some of the teams are not fully convinced that we can truly make a difference to the strategic direction of the organization. It's vital to get the whole organization on board and that comes from having a strong conviction, and a clearly defined roadmap of how to make this happen."
A key component of a successful transformation will be an expansion of Medical's capabilities – to allow a company to understand the patient experience, access, and influence a broad array of external healthcare stakeholders, and to act as a liaison between the medical community and the internal research organization.
"We described the required capabilities of the future Medical organization and we are creating the training platforms to accompany that. And we help them to understand the processes by which you transform. It's not easy at the country level, where the 'rubber hits the road', because the pressure of the business and the resources and experience to lead change is much more difficult to obtain. We have taken the long view, so when we hire today, we try to hire for the future. We try to bring in people who have a better understanding of biotechnology, drug development, are strong on analytics and with a solid grounding in medicine, and where possible, a strong interest in the digital side. It's tough. We also look for people with a very strong patient-centric focus as the energy and passion these individuals bring to our organization is tremendous, and keeps us grounded in our purpose".
Together is better
With today's life science industry now under extreme pressure to deliver superior medical outcomes while simultaneously cutting the cost of drug development, the time is right for Medical organizations to earn their place at the leadership table by creating opportunities to deliver new value for both patients and the healthcare ecosystem. Different companies are at different stages of maturity in terms of their progression towards being a fully-fledged strategic partner. However, the lack of a unified voice is hampering progress, Nathwani suggests.

"Our weakness is the heterogeneity of the role that Medical plays across organizations. We have extremes, from Medical as a well-accepted key strategic partner, right through to other organizations where Medical is probably more in the mainly customer support role. That heterogeneity means that it's very hard to get alignment. If you look at the R&D organizations across industry, there is more clarity around their value and role. The main R&D leaders regularly meet together in a pre-competitive forum to look at the future direction of R&D and discuss macro trends. We don't systematically do that across the Medical leaders in industry. There are a few useful platforms, but given the heterogeneity of our roles, the discussions are not consistent and our collective influence and voice is not at the level it could be."
Nathwani is a strong advocate for Medical Affairs coming together as a community to decide on the future direction of MA. "We need to align on what are the key priorities that we believe Medical should be working towards across industry. For example, can we agree what would be a reasonable way to present the value of Medical internally and externally? Can we agree on what are the areas that Medical should try to drive within organizations – be that digital or drugs-plus or lifecycle management, and so on. Can we agree on the optimal methodologies for collecting and using RWE or utilizing advanced analytics for post-registration studies? What's our approach on the many industry topics around bioethics?

"For example, in our organization, Medical runs the Sanofi Bioethics Committee, which helps to form company-wide positions on fundamental issues such as data transparency, the way we conduct trials, our approach to patient groups, positions on nanotechnologies or genetic therapies. Medical could be much more instrumental on matters like these if we had a platform across industry which could integrate positions from other companies and gain alignment on them. There's a lot of areas I think that an organization like MAPS could focus on, to really elevate the Medical organization and its voice in our industry."
Medical has a window of opportunity to become a strategic function. It needs to make itself relevant to the changing healthcare ecosystem and is well-positioned to do so but it could easily "miss the bus" on this if it carries on as is.
The future of the function is very much in our hands, Nathwani believes. "It depends on what we do next. In fact, I think we're at a tipping point right now. We either prove our innovative value by adapting to and addressing the external changes happening in healthcare and our industry, or we will continue to remain a mainly support function. There's a lot to do. If we can, for example, use Real World Evidence platforms to fundamentally change the way we carry out drug development, understand patients and diseases, and leverage these to bring through our biologic innovations faster, more safely and at a reduced cost, that to me will be a remarkable achievement."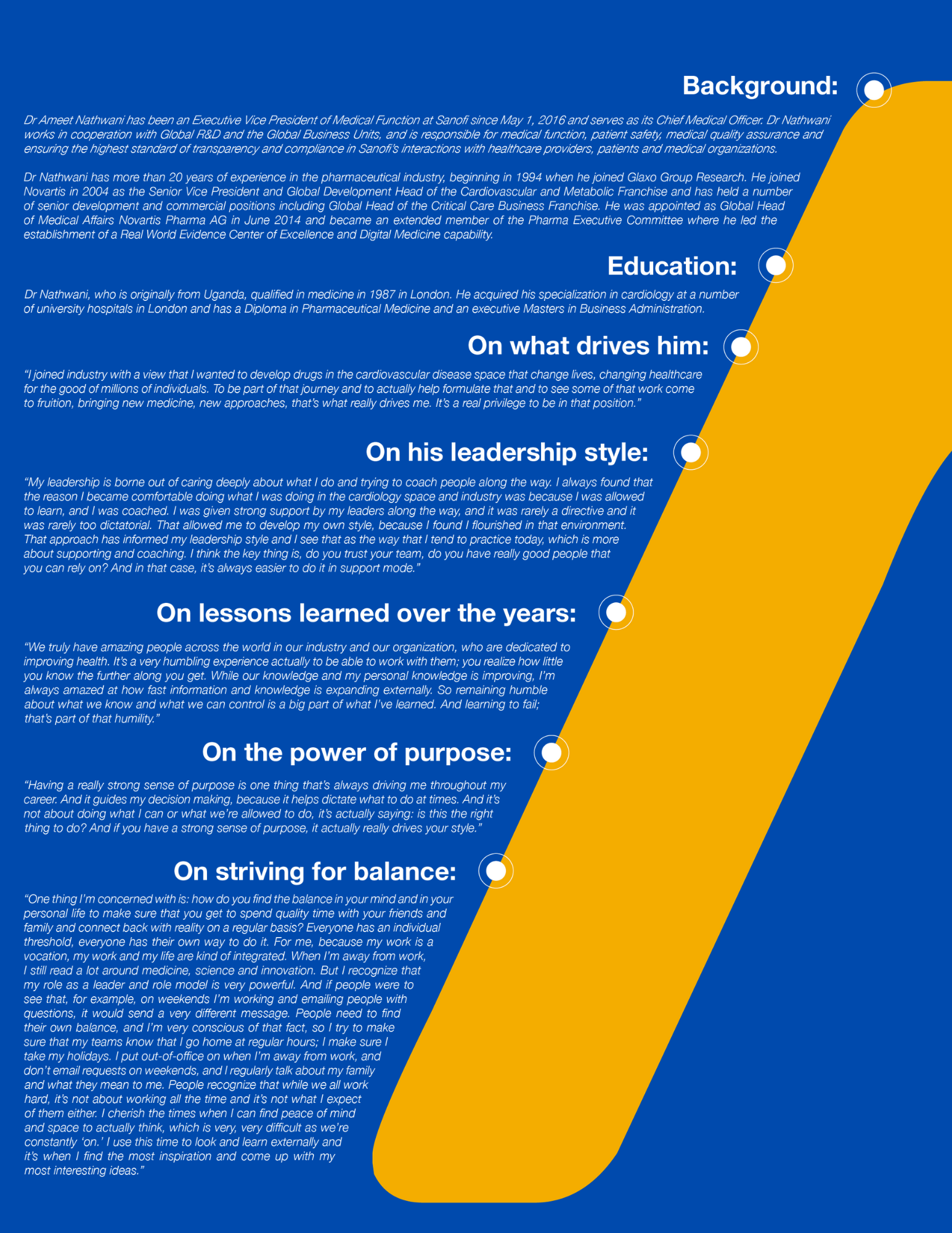 https://medicalaffairs.org/wp-content/uploads/2019/04/Rise.Medical.ELEVATE.png
321
845
Medical Affairs
https://medicalaffairs.org/wp-content/uploads/2022/11/MAPS-Logo-R-NoTagLine.png
Medical Affairs
2019-04-30 20:29:51
2022-11-04 09:05:53
The Rise and Rise of Medical